Magician King. Cartoon of 03/01/2021 in CTXT
Not a day goes by without meeting new traffickings juanca, that nice collector of wads of banknotes.
If instead of the king, heir to the throne and supreme commander of the armed forces, it had been any other public official who would have been the one who had made off with the lots of money that the countryman has amassed, and of which almost nothing is known about its concrete origin, there would be no living creature that would not be calling for his head. But no, with the Bourbons, corruption must be seen as a minor problem. A supposedly supreme, sacred and untouchable good, the Monarchy, must be protected.
If just a short while ago personalism was exalted and we were told that this succession monarchy was to be praised genetically because it was represented by a man who was much loved for his personal side, for his charisma and his humility, now he must be separated from the institution and not taken into account because "institutions are above people", as Margarita Robles assured us.
The rancid press is still trying to sell us a story of emotions, family feelings and human tragedy. The same old refrain of an eternal campaign to wash away the historical Bourbon rot.
After reading this tontolar I am in tears
huddled
in a corner. I can't take so much bitterness.
Meanwhile, Juanca, who had to place 12 gold-covered ferreroroccoes on a saucer to welcome the year in the solitude of his adobehut in Abu Dhabi, was spotted and photographed by tourists. In the snapshot, he can be seen skimming between yachts. In his natural habitat, luxury.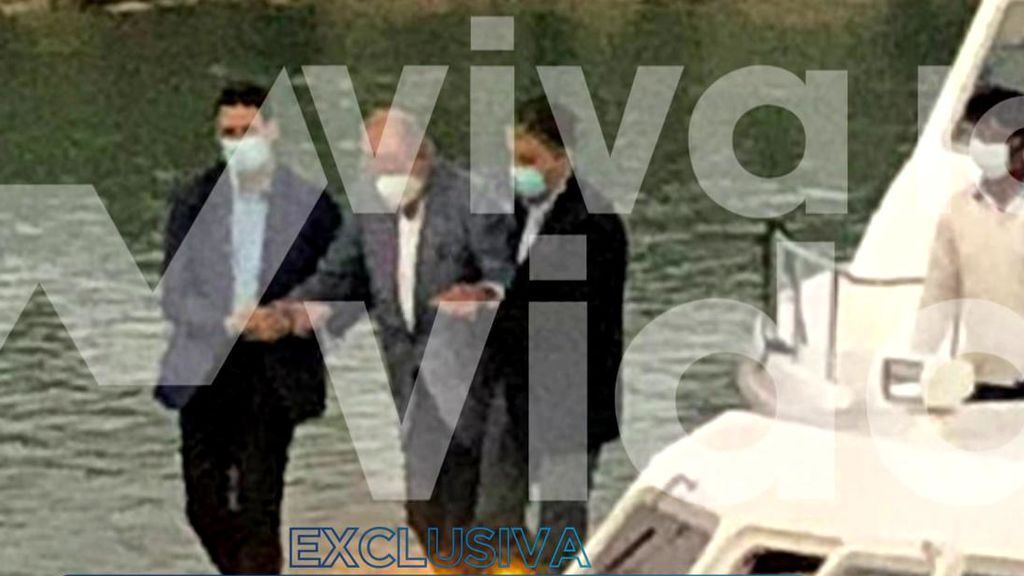 The current photo of King Juan Carlos in which he needs help to walk
Juan Carlos was photographed by tourists in Abu Dhabi on 29 December.
Renew the Monarchy
One of the best jokes was told a few days ago by Pedro Sánchez, when he announced a "road map" to renew the Monarchy based on "transparency, accountability and exemplarity" (canned laughter) that will be known "step by step", of which it is not known whether there will be legislation or any specific details, as is usual in these empty announcements for the gallery.
Sánchez, the same that says who "the majority of us republicans feel very well represented in this parliamentary monarchy that we have" and has the twisted theory that Felipe VI is a guarantor of liberties and represents I don't know what kind of succession bagpipe of a supposed anti-Francoist struggle, for rights and liberties and against dictatorship, now claims that Zarzuela has "the vocation to move towards a constitutional parliamentary monarchy updated to the standards of values and principles of 21st century Spain".
And, on that point, whatever the Government can do to help, "it will be at the disposal of the Crown", which is like saying nothing but filling its mouth with words. Or read in earthling: whatever His Majesty orders.