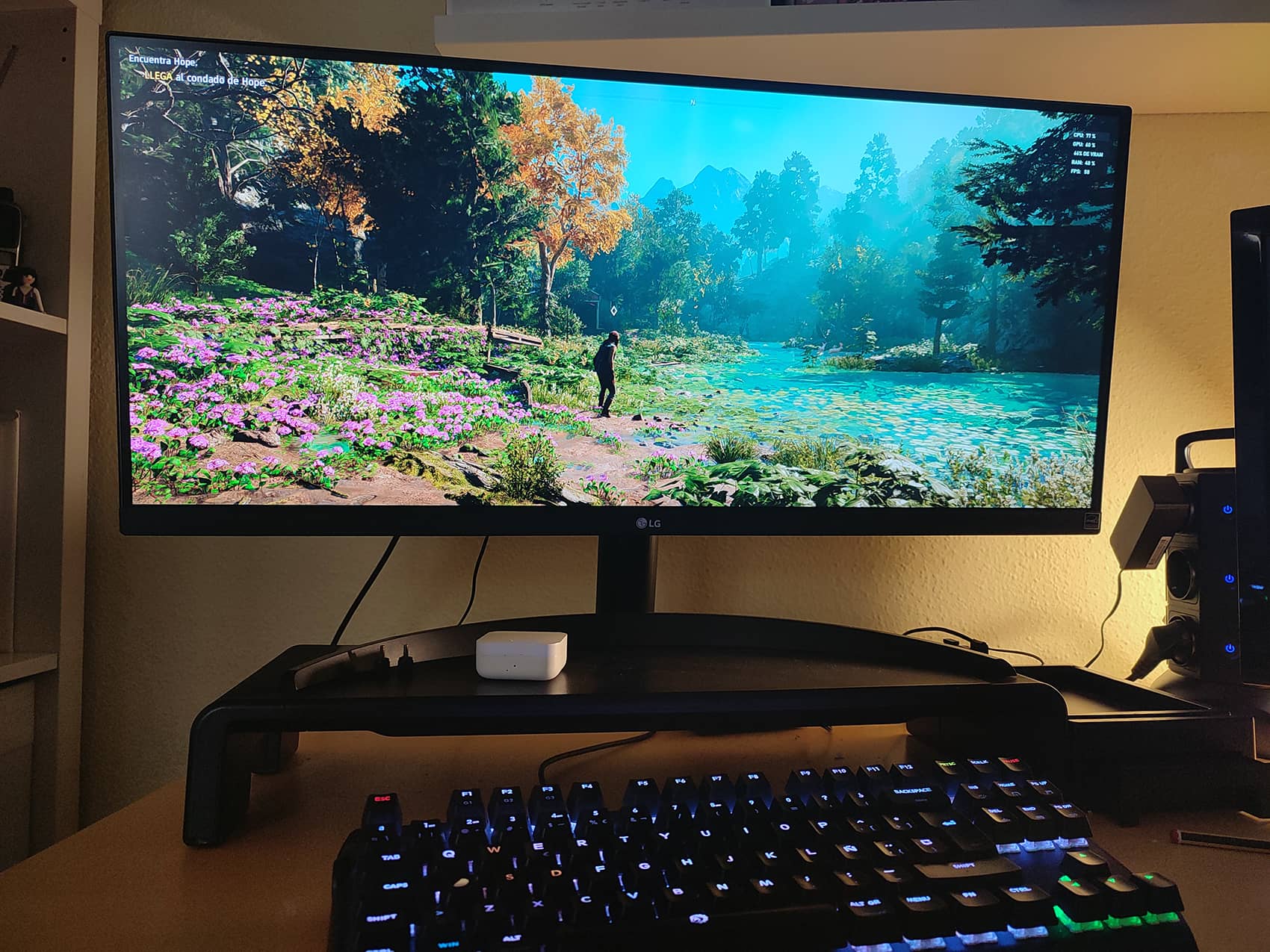 I've titled this post like this because that's what I was looking for when this started to happen to me and as I had a lot of notes of what I was trying, I've recycled them here.
The monitor is out of signal. When running a game, even one with low requirements, after a few minutes (sometimes seconds) the monitor loses the video signal, it doesn't come back and we are left there. The computer continues to work normally, but with a black screen. You can even listen to the game, but you have to force a reboot or shut it down to be able to use the machine.
With very undemanding older games with low requirements such as Fallout 3 (2008) or Dishonored (2012) it works fine in low or medium quality for a little longer, but the error occurs again even when running in a window instead of full screen. Sometimes the screen goes blank, or another colour, for a few seconds before going black.
On restarting, everything continues to work normally, there is no heating, no abnormal fan noise from the graphics card or processor, and nothing to indicate that anything is being forced.
The art of troubleshooting is not to look for the right answers to what we think is our problem, but to ask the right questions to discover the real problem and above all to gather as much information as possible from different tests to follow a logical path of discards.
If you get a pimple on your toe and you look on the internet you might think it is gangrene and that the best thing to do is to have your leg amputated. I know this is an extreme comparison, but everyone I asked told me it was almost certainly an electrical problem and most of them pointed to the source.
The vast majority of texts that talked about very similar cases, even almost completely coinciding in the specifications of my computer, pointed to an electrical problem with the motherboard, the processor or almost certainly the power supply.
In principle, I ruled out a problem with the monitor because it is just over a year old. The graphics card was the candidate. Although I changed the thermal paste very recently, its fan works, maintains a good temperature and does not show scratches or artefacts on the screen, only when opening a game, which is one of the best tasks to test it. All other operations ran fine, even full screen videos and other heavy graphics tasks with editing programs.
Following different advice I did all these things before I found the solution. None of these tests resulted in anything other than the scary black screen of death. I have ordered them, more or less, from the easiest to the most laborious.
-Checking and cleaning all the power cables and connectors and all the fans. General cleaning of the inside of the case.
-Lower the monitor to 50Hz and check if you have the latest drivers installed.
-Limit CPU% usage to 90 and 80% and disable some services to optimise RAM consumption.
-Check for malware.
-Install and test games on SSD.
-Installation and testing of games on HHD disk.
-Cleaning of slots and connectors of RAM modules and changing the positions of the modules in the slots.
-Cleaning of the inside of the power supply and its fan, checking that it rotates. No excessive heat or noise.
-Delete and clean reinstallation of NVIDIA drivers for the graphics card with Display Driver Uninstaller (DDU).
-Test by plugging the GPU into another PCIe slot. Clean slots and graphics card connector and check for damage.
-Memtest64 test at max to check RAM, no errors.

-Windows Memory Diagnostic Tool, no errors detected either.

-I disabled Turbo Mode in the BIOS. No effect.

-I reset the BIOS to the recommended default values
-Update BIOS, although in my case I already had the latest version.
-Various CPU stress tests with CPU-Z, no errors returned.
Detect and correct possible C disk errors with CHKDSK /F /R. Error-free test.
-VRAM test of graphics card for 1/2/5/10 minutes at 95% with OCCT. Temperature is stable, between 45 and 55º, no errors.

-PCIe test of graphics card with GPU-Z, graphics card stays at 70/71º maximum. (No artifacts and no screen shutdown).
-Voltage check of the power supply (850 W), which has more than enough power. Check of cables, connectors and internal components. Nothing abnormal is found. The best thing would be to make sure and test another power supply here and mine in another computer, but for the moment it is not possible. The same should be done with the graphics card.
-Check the board voltages. Unless some component is defective and has whimsical and intermittent peaks undetectable to voltage tests, no errors are found. If you don't have much idea, you can also try one of those diagnostic POST cards.
-Graphics card benchmark in medium quality with Unigine_Superposition-1.1. It doesn't hold for a minute, it shuts down. The same with other stress tests. With Furmark at full throttle the shutdown is almost instantaneous.
During all tests, HWMonitor is run to provide metrics for minimum, average and maximum voltages and temperatures in case they offer any clues to component malfunction.
The Windows event viewer doesn't help because it only shows the traditional Kernel-Power error (Event ID 41) which is the one it records when a forced reboot is performed, but no trace of previous error events.
-Detection and correction of possible logical and physical C disk errors with CHKDSK /F /R. No errors.
-System file checker is run. Run sfc /scannow in PowerShell.
Result: "Windows Resource Protection did not find any integrity violations".
-Processor diagnostics with Intel Processor Diagnostic Tool 64bit (Intel Processor Diagnostic Tool). Passes the test, no errors.
They also advise uninstalling the last Windows update received in case it is the cause of a conflict, reinstalling the OS and even checking that there are no problems in the electrical installation of the house or in the light point where the computer is plugged in.

At this point, I still have the same failure and without knowing exactly what causes it, but by elimination it is very likely to be the GPU, so I decide to buy the graphics card I was looking for since I got a good deal and so I already have it for when I solve it.
When the mythical GTX 1660 arrived, I couldn't wait to try it and I plugged it in. Although I wasn't confident it would happen, the problem disappeared. The previous 2Gb graphics card was dying and those were the symptoms. Maybe it can be repaired, but for now it will stay in a drawer.
The first thing I did was run very demanding games like Red Dead Redemption 2 at high quality and less demanding games that needed less VRAM at ultra quality and re-run the Benchamrks where it was failing. It passes all tests. No problems running demanding games at 1080p well above 60 FPS despite running on a third generation processor from 2012.
These are the current specs with the graphics card change.
Chassis/case: 2012 Antec P183 V3.
Power supply: LC-Power LC8850 II V2.3 Arkangel
Board: ASUS PCB-Sabertooth Z77
Processor: INTEL-3770K Core i7 3770K 3.5Ghz / 3.9Ghz – 4 Cores – 8MB Cache 1
Processor fan and heatsink: Freezer 7 PRO Rev 2 / Arctic Cooling Quiet Computing heatsink.
Additional front fans: 2 Noctua NF-A12x25 PWM.
GPU: Gigabyte GeForce GTX 1660 SUPER D6 6GB GDDR6 – GV-N166SD6-6GD
RAM: DDR3 4GB HyperX Fury 1600 MHz. 4GBx4= 16GB RAM (board supports upgrade to 32Gb).
Disk C: SSD-120GB S3 500MB/s Series Sata III 120GB 2.5IN MLC High Perfomance.
Disk D: HDD 1TBS ATA3 Hard Disk 1TB 7200rpm SATA 3.
Reader: DVD-RWDVD DVD Rewriter.
Network Card: ASUS PCE-AC56 – PCI Express AC1300 (Dual band, 2T2R, external base with antennas and passive heatsink).
OS: Windows 10 Pro 64 Bits.
Monitor: LG 29WP500-B, ultrawide 29 inches.
I was "glad" that that was all that was broken because, apart from the fact that I was looking forward to a better graphics card, the board is no longer suitable for upgrades or extensions, and the fact that it was broken raised serious doubts about whether it was worth spending much more on a computer that was more than ten years old.
I put a candle to Saint PC to ask him for another ten years of operation and I went to shoot like there was no tomorrow
Finally, I leave you with a complete photo book of the graphics card posing suggestively to celebrate the resolution of the annoying failure of its worthy predecessor.